Flu vaccinations – please help us to help our patients
Annual flu jabs are important protection for those patients more at risk of complications and premature death from influenza – and for the carers who look after them day in and day out. Reminder letters, phone calls and flu clinics take time and money to organize. In recent years other providers have been allowed to give flu jabs to our patients. They don't have access to your GP medical record. We haven't always been told when patients received a vaccine. The surgery's flu expenses increase whilst the reimbursement we receive decreases, putting further pressure on GP services funded at an average just £151 per patient per year from our basic NHS contract. If you are eligible for a NHS flu jab, please protect yourself and your GP surgery by booking your flu vaccination with us. Phone 01790 728211 to book for the next available clinic on Saturday 25 November, 9.00am to 12.00pm at the Franklin Hall, or in surgery if you can't make that date. We look forward to seeing you there.

Spilsby Surgery serves the communities of the market town of Spilsby and its surrounding villages in the Lincolnshire Fens and Wolds.
The NHS and primary care GP services are changing fast to provide more care nearer to your home. Spilsby Surgery believes it is vital to at the same time maintain the values of traditional General Practice – putting individual patients and their families first, and responding to local needs as we reshape your future care.
Our website introduces you to your healthcare team and the services we provide in order that you can access the care you need. It provides a convenient way to contact us. The website provides surgery news, our views on your healthcare, and links to other sources of care and information we trust. It also hosts information from your Patient Participation Group.
Spilsby Surgery is an active member practice of Lincolnshire East Clinical Commissioning Group, the new East Lincolnshire Medical Services GP Federation (ELMS), and a Neighbourhood Team bringing together health, social and voluntary care for our patients. We are a founder member of the Lincolnshire Community Educational Provider Network, providing specialist training to doctors wishing to become GP's, and to undergraduate nursing and medical students.
We would welcome your feedback about this evolving website in order to improve it for you and your community.
---
Have an apppointment booked you would like to cancel?  Please click here

---
 Online Booking and Prescription Service!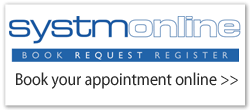 We are now able to offer an online booking facility for existing patients.  In order to use the service you will need to complete a consent from (available from the surgery).  We will then supply you with your username and password with which you can log onto the online booking facility here:
https://systmonline.tpp-uk.com/   
Please note that the appointments available for booking through this system are limited and should not be used to assess appointment waiting times.
Access to your Summary Patient record is also available.
---