Caring for someone who is now in Lincoln, Grantham, Louth or Pilgrim hospital?
Carers Badge
The badge recognises that as a carer you should be considered as an expert and equal partner and we (ULHT hospital staff) need to work with you to achieve this.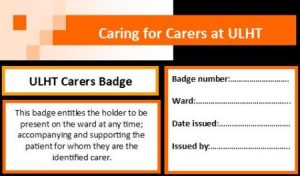 Having a ULHT carer's badge on its distinctive orange lanyard means you will be visible and recognised for the incredibly important role you play. You will be allowed free visiting on the ward and we will work with you to agree the level of input you want to retain during the hospital stay and not make assumptions or take advantage of you!
If you would like to find out more then pop down to our PALS office or speak to a member of staff as someone from PALS may be able to pop up and see you and we can take it from there.
Click the link here for more information from ULHT (United Lincolnshire Hospitals NHS Trust)
Useful Links relating to this article
ULHT (United Lincolnshire Hospital NHS Trusts)
NHS trusts are accountable to NHS Improvement as well as the public and patients
PALS
If you have any questions, problems or concerns about your care or the care of the person you are looking after you can contact PALS who can help you to obtain answers to your queries.